For those familiar with Enzo's birth story, I am happy to share Charlie's went much differently.
We always knew there was a chance I would develop preeclampsia again in future pregnancies. This time, from the first trimester, my OB-GYN monitored me very closely with extra tests and scans at each visit. I checked my blood pressure regularly at home. I also took other preventative measures he recommended, including extra Calcium supplements and baby aspirin to thin my blood.
It was scary knowing that I could very well put my body through the experience of Enzo's birth and aftermath again, but I trusted we would catch the signs sooner if I did develop preeclampsia.
Sometime in the second trimester I asked Jeff if he was nervous. He replied that he had been preparing himself for the possibility that I could die due to complications and that was how he was coping with the stress of it.
Moving into the third trimester, everything was looking great. We were all confident the pregnancy would continue to go smoothly.
At 28 weeks we were scheduled to go to Phoenix for a getaway. The night before our departure from Winnipeg, I admitted to Jeff that I was stressed about developing preeclampsia while traveling. Even though we had travel insurance, I heard horror stories about certain treatments being excluded from coverage. I feared delivering a premature, million dollar baby in the US and seriously thought about sending Jeff and Enzo on their own.
But we all went. And on day 2 we found ourselves in the Chandler Regional Medical Centre emergency room...to treat a sprained ankle and large gash in each of my knees. But that's a whole other story with gross photos that I won't share. I'll just share the 'before' picture:
At 35 weeks I coordinated my last wedding (Alli's of Alli Mae Fresh Events - love that girl!), with the assistance of my mom (as usual) and Jeff, before my self-proclaimed maternity leave. (For any curious wedding planners out there, this is the latest I would ever do a wedding again. It was manageable with the extra hired help, but exhausting!)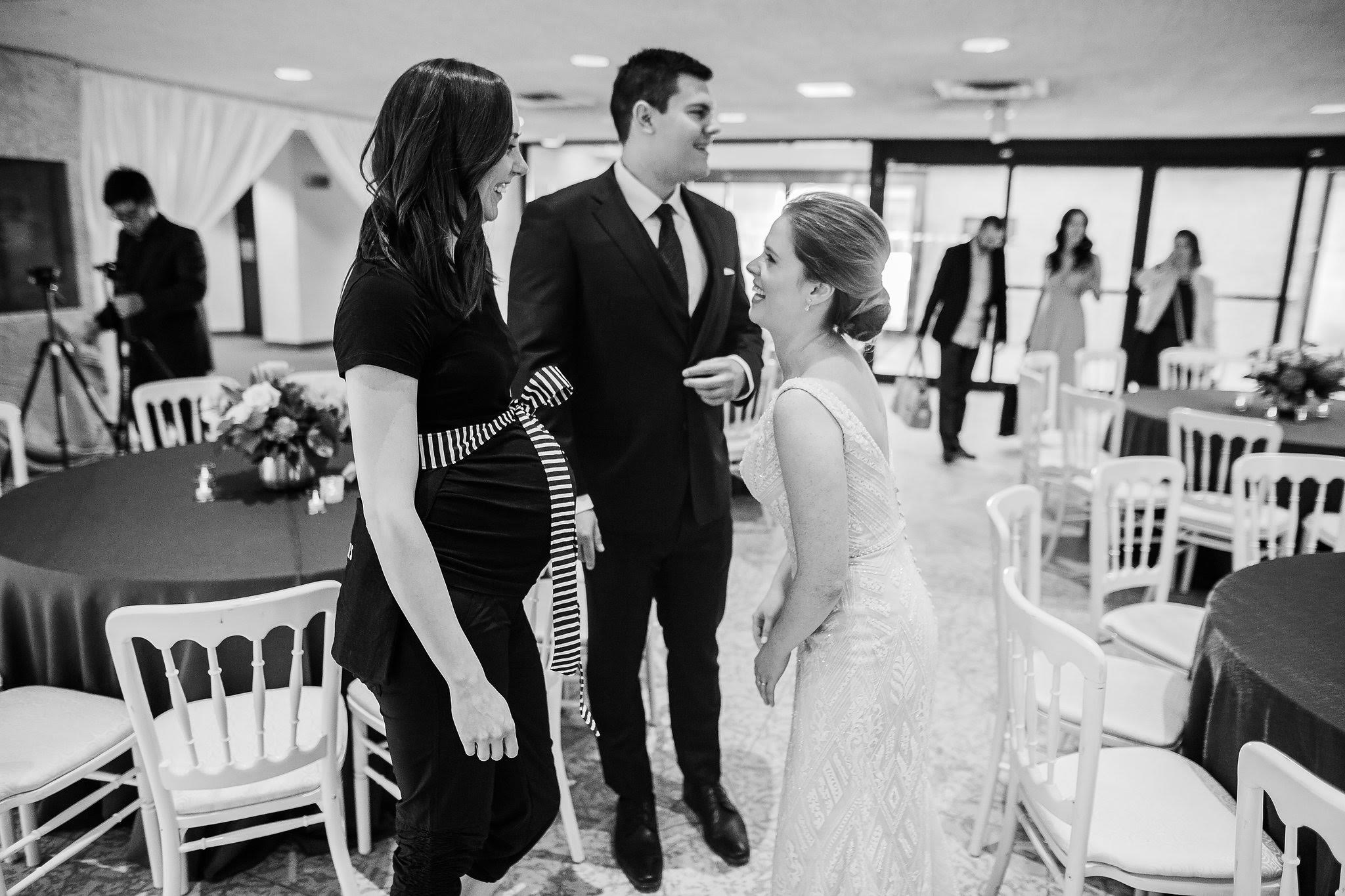 Images by Megan Steen Photography
At 36 weeks we finally moved into our new home we spent the previous 8 months renovating. It was a mad dash to unpack the house and get settled. By 38 weeks, I had unpacked all the boxes and organized the house. Things felt ready, and I was sure I was finally relaxed enough that our baby would come any moment. I began having irregular contractions, anywhere from 1-5 per hour. Though they never became regular, or more painful. I kept busy with Enzo, yard work, and other small projects around the house for the next week.
At 39.5 weeks I noticed less movement from the baby. I put on a pot of rice for dinner, but quickly decided I was not taking any chances and turned off the stove. I thought, even if it ended up being a false alarm, there is no shame in having things checked out. I packed up Enzo and myself and we went to St. Boniface Hospital. I told Jeff to stay at work. After an hour, it was determined everything was fine, but they expected I would go into labour "within 24 hours - 48 at the most".
Those words completely changed how we lived the following days. Jeff called his parents to come over the next day to help finish up some loose ends around the house, before it all got put on hold with a new baby around. The next day we had my parents over. I took long naps and showers. Jeff and I ate oven-baked s'more dip every night while watching a movie, thinking it would be our last one together for a few months. I soaked up one-on-one dates with my first born, Enzo. The irregular contractions continued to confuse me though past 48 hours for several more days, and I started to feel like the waiting and uncertainty was unbearable.
At 40.5 weeks one evening, Jeff came home to me frantically cleaning the house. I said, "everything is dirty!" I quickly had a long list of everything I (unnecessarily) wanted to clean once Enzo was in bed. After dinner I hopped in the shower for some time to myself while Enzo cleaned the floor of the bathroom. (I did not ask him to do this. He wanted to help clean because he heard me say everything was dirty.) It was then that I realized my contractions were getting more consistent and stronger. I started to think things may be happening. I decided to put aside the cleaning, and our usual s'mores dip as of late, and decided to just go to bed. We texted our parents to let them know to stay on alert that night.
One hour later, I woke up to some painful contractions but managed to drift back off to sleep. Another hour went by and I was awake again with more painful contractions. I started timing them. It was happening!
At 2am I got up to do my makeup, hair and get dressed while Jeff continued to sleep. I didn't have the opportunity to relax around the house like this with Enzo's birth, and I always fantasized about the time at home in early labour when hearing other's stories. I desperately wanted to feel pretty, strong, and in control. Not puffy, scared, and helpless like last time.
Once I was ready, I asked Jeff to get up for the day so he could start helping me. He got ready, called our parents to head over, and we went to the basement to finish watching our movie, Steve Jobs, which I highly recommend by the way. I alternated between standing and leaning on an exercise ball for the contractions.
My mom arrived quickly to join us at the hospital, and Jeff's parents not long after to stay home with Enzo. She said I looked nice - hah! Mission accomplished.
At 4am we left for St. Boniface Hospital. While trying to leave, I had a contraction in the house, on the steps, and once again right before getting into the car. I was dreading the ride and sitting uncomfortably in the car, but it was such a short ride I only had one more contraction while seated before we got there.
I was 4cm with consistent contractions when we arrived in triage. The nurse would send me to labour and delivery once I was more dilated. I laid in bed while baby's movements and heart rate were monitored. Everything still pointed to an uncomplicated birth.
I found a few methods helpful in coping with the pain. Sometimes I would count the holes in the room's curtain very slowly with each deep breath. Sometimes I stared at my mom or Jeff and squeezed their hands, imagining them taking some of the pain away. Other times I imagined Enzo was there, and I had to be strong for him so he wouldn't be scared (or scarred haha!) Between contractions I closed my eyes and 'slept'.
We hadn't seen a nurse for what felt like a very long time. When I finally caught her peeking in around 6am, I asked when I was going to be checked again. She was surprised I asked, as she had been peeking in the room and seeing me sleeping, assuming things weren't progressing. Mom laughed and said I was very good at relaxing. So the nurse checked again and I was suddenly at 6+cm. I would be transferred to labour and delivery in the high risk unit very shortly (jusssst in case things went downhill).
I wanted to cry. My mom said I could. And I did. I sobbed. I felt a wave of relief to be making it so far with my body still in control, knowing things were progressing in a healthy way. I felt like I was winning!
In my new room was Jeff, my mom, and two lovely nurses (how are St. Boniface L+D nurses always so amazing!?)
I was surprised I wanted to continue laying down for labour. It was necessary I lay down for Enzo's labour, and I hated it. It felt uncomfortable and forced. Leading up to the day I told myself I would stand or kneel this time. Anything but stay in bed. In reality, I felt much too exhausted. It was amazing to be able to drift off to almost a sleep-like state between the building contractions, and I could only drift away if I were laying down.
Sometimes I hyperventilated from the pain. Jeff, mom or the nurse would snap me out of it.
Sometimes I felt so strong. I could keep my eyes closed and go into a meditative state. I was able to picture my body not as mine, but as someones I was witnessing from the corner of the room. I imagined it was not me feeling the pain, and rather another entity.
Sometimes I would exclaim I didn't want to do it anymore. I didn't want to be in labour! I wanted it to be over. I was exhausted, mentally and physically.
Sometimes I made everyone in the room laugh. (Seriously, the nurses told me I could labour with them any day because I was so much fun, hah!)
Progress slowed. My water hadn't broken. I stayed at 9cm for a long time, despite my body telling me to push. For 2 hours I fought the urge to push.
I had no energy left. My mom told me over and over again I would find the energy. And I did.
Around 9:20am my OB-GYN doctor arrived (it was a miracle he happened to be working at the hospital that day). I was at 9.5cm. By body wasn't totally ready to push, but I could try.
I gave it my all.
I satisfied the urge to push on my next contraction and my water finally broke. Our baby was making his entrance.
Two more pushes. Our little Charlie Jay was in my arms already at 9:40am!
What a surreal moment, holding my baby as he took his first breath. An incredible honour and I was instantly in love. I spent time looking over all the little details of this new body. His chin dimple, brown hair, and strong frame.
It was a proud moment for all in the room.
You probably guessed there was no Part 2 for 'Jeff's side of the story' this time around, and you're right. I did it. I saw it all this time. A story I can tell and cherish all on my own.